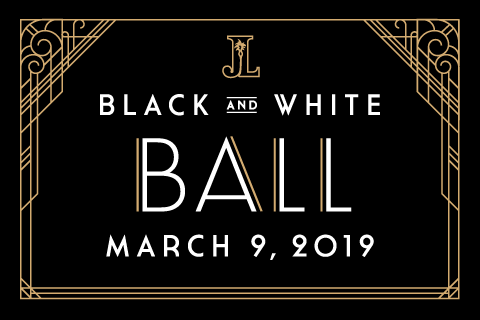 The JLSB's Annual Gala: A Black and White Ball 2019
A fantastic evening, bringing our community and members together.
The Junior League of Santa Barbara's Annual Gala 2019: A Black and White Ball was a great success! Thank you to our Presenting Sponsor Joan & Jim Lindsey and to our generous donors and sponsors for your continued support. For any additional inquiries or interest in individual or corporate sponsorship, we would be delighted to talk with you. Please email our Fund Development team at Fund.development@JLSantaBarbara.org.
All donations from the event's live ask will go directly to support the Joan & Jim Lindsey Endowment Fund, which to secure the financial future of our signature project S.A.F.E. House Santa Barbara.
Beth Farnsworth, KEYT News Anchor, graciously emcee'd for the evening and was accompanied by Geoff Green, Executive Director of SBCC Foundation, to host the live ask portion of the evening.
The event consisted of a champagne sunset hour, a delightful dinner, an entertaining program, presentation of the 2019 Woman of the Year award to Lisa Conn Akoni, a robust silent auction, a wine raffle and casino tables!
The Black & White Ball was held at the La Pacifica Ballroom of the Coral Casino at the Four Seasons Resort The Biltmore Santa Barbara. Congratulations and thanks to all of our members and supporters who helped make the evening a great success. We look forward to another wonderful event in 2020!