Spread Your Wings – President's Message
Welcome to the Junior League of Santa Barbara!  We are delighted you are interested in our organization.
Since its founding in 1901, The Junior League has evolved into one of the oldest, largest, and most effective women's volunteer organizations in the world, encompassing more than 150,000 women in 292 Leagues in four countries.  Across the world, all Junior Leagues are committed to three tenets that guide our work: promoting voluntarism, training women leaders, and improving communities. Shirley Temple Black, Julia Child, Katherine Hepburn, Sandra Day O'Connor, and Eleanor Roosevelt — along with many other women who have made history — were all Junior League members.
Are you interested in learning more about what we do? Through both training programs and experiential opportunities, our members learn how to most effectively volunteer, develop partnerships, communicate, fundraise, network, and serve on boards. In short, we equip women to lead in all areas of their lives, while also improving our community. With over 90 years of service here in Santa Barbara, our organization has been impactful in many ways, and we are excited to continue meeting the needs of our community.  Throughout our rich history we have taken up some of the most pressing needs suchas education, awareness and creating programs to benefit many family, child and social services.
This year, we are honored to begin crucial work within our new Signature Project – facilitating the opening of SAFE House Santa Barbara, and creating an awareness campaign for Human Trafficking in our community. SAFE House Santa Barbara is a 6-bed shelter, designed specifically to provide trauma-informed therapy and housing for victims of sex trafficking.
Are you able and willing to support us? We are a 501(c)3 nonprofit organization, and we need your help to fulfill our mission. By making a contribution of your time or your resources, your partnership with our organization and our members is solidified. In addition to welcoming you to volunteer with us, we appreciate donations, corporate sponsorships, and gifts-in-kind.
Are you considering joining us? Initiating your membership in the Junior League will be one of the best decisions you ever make. Since becoming a member in 2009, I have been rewarded time and again with growth as both a professional and an individual, by finding purpose in helping build a stronger Santa Barbara, and in lasting friendships with smart, accomplished, and inspiring women. If you are a woman looking to develop or improve your leadership skills, make a positive impact on your community, and have fun and connect with remarkable women while making strides toward personal empowerment, the Junior League is for you!
I invite you to join me and more than 450 other Junior League of Santa Barbara members and sustainers as an advocate for our Mission, a sponsor of our programs, or Spreading Your Wings as a member in our organization.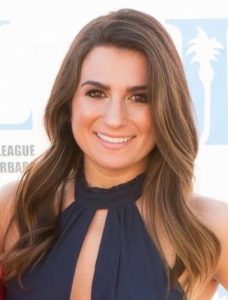 Warmest regards,
Danielle Hazarian
president@jlsantabarbara.org