World Day Against Trafficking in Persons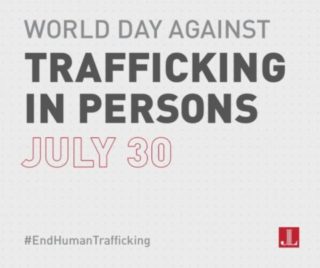 Never doubt that a small group of thoughtful committed citizens can change the world. Indeed, it is the only thing that ever has."
Margaret Mead, cultural anthropologist
On July 30 we recognize World Day Against Trafficking in Persons – a global problem that hits home here in Santa Barbara. According to the Santa Barbara County District Attorney's Office, Santa Barbara serves as a natural transit corridor for trafficking activity between major metropolitan areas to the south and north. The Junior League of Santa Barbara (JLSB) has proactively addressed human trafficking in Santa Barbara County by focusing on improving the lives of at-risk young women by educating and empowering them to reach their full potential while working to prevent exploitation and injustice in our community.
Locally, the League has partnered with 4 Kids 2 Kids, Inc. to facilitate the opening S.A.F.E. House Santa Barbara™, a 6-bed, residential Short-Term Residential Therapeutic Program (STRTP) in Santa Barbara County designed to meet the very specific needs of girls who have been victims of commercial sexual exploitation. The facility officially opened its doors May 2018 and continues to help local Santa Barbara County survivors today. For more information about the project, please visit JLSantaBarbara.org.
The League also launched traffickSTOP Santa Barbara County, a community awareness campaign dedicated to bringing greater awareness to the county's residents regarding the commercial sexual exploitation of children that occurs in our communities. traffickSTOP focuses on knowing the facts, the signs and what to do to combat human trafficking in our community. The community is encouraged to learn more about the issue, raise awareness of sexual exploitation and trafficking, and understand the factors that make youth more susceptible to this crime along with engaging and supporting young people in our community and taking action when their rights and wellbeing are not being respected. traffickSTOP was launched in partnership with the Santa Barbara County District Attorney's Office. This initiative is also supported by the Association of Junior Leagues International (AJLI), the parent organization of JLSB. ALJI has partnered with Junior League Chapters nationwide to launch awareness efforts under the umbrella of the Association's ABOLISH Movement.
On a state-wide level, the League voted to support Senate Bill SB630, which was recently signed into law by Governor Newsome. This bill requires local transportation businesses to include information about human trafficking to cut down on the prevalence and cross-state transport networks, which empowers communities to be informed and take action in order to end human trafficking. The United Nations Office on Drugs and Crime (UNODC) highlights the importance of this type of government action, emphasizing that "despite every country having national human trafficking laws, people continue to be trafficked globally. In fact, in many countries, victims may still be criminalized and the impunity of traffickers prevails."
The League encourages the community to read more about World Day against Trafficking in Persons and share UNODC's resources to increase awareness.